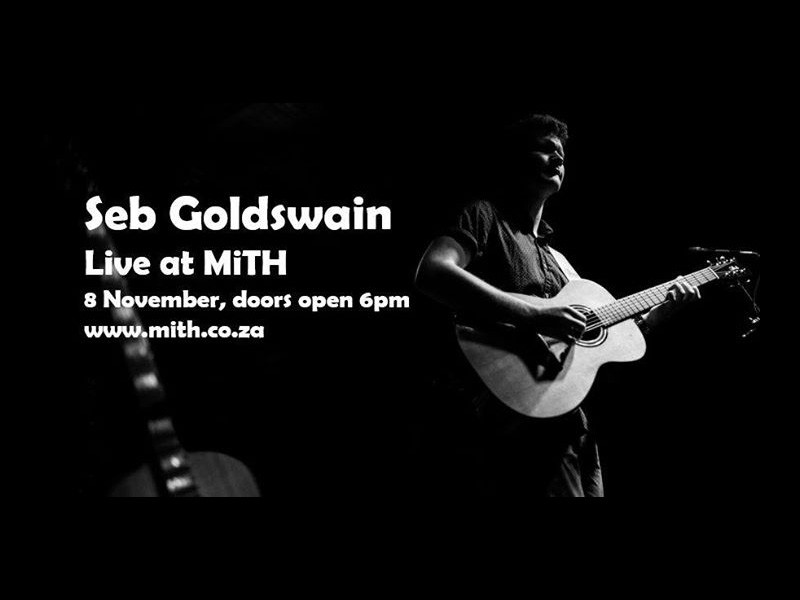 Seb Goldswain Live at MiTH
Category:
When:

8th November 2017 7:00 pm - 10:00 pm
Where:

Knoll Dr




Hilton

,

KwaZulu-Natal

South Africa



Submitted By:
Event Details

---

MiTH (Music in The Hills) 8/11/2017 – Cowan House Music Department, T Christian & Seb Goldswain

Time: 7pm, entry R30, bring your own booze. Food and soft drinks are available for sale. Musicians who want to play at MiTH, please contact mithbookings@gmail.com, Bill Pocket (076 684 7647), Charles Webster (082 331 7271), or Doug Borain 072 340 7034

7pm – COWAN HOUSE MUSIC DEPARTMENT

Seasoned Durban songstress, Shelley Mclean has moved to the midlands to lead the Cowan house music department. Shelley is bringing a selection of her best learners to sing and play various instruments. Come and see some astonishing, talented youngsters spreading their wings for the first time at MiTH.

8pm – TCHRISTIAN

Inspired by beautiful music, especially Mali Zulu's music, as well as Robert Glasper, Snacky Puppy, Lira, Afro Traction and others, T Christian has played for Nosihe Zulu, Malibongwe Zulu, Soulfullsound and several more. He started singing when he was 11 and just fell in love with the way it made him feel. He is a song writer and has performed at the Maritzburg Jazz festival, Sprytz, weddings, business functions, hotels and parties. His charismatic and soulfull sound makes him a crowd favourite. We welcome TChristian back at MiTH.

9.00pm – SEB GOLDSWAIN

If you haven't heard Seb perform before, prepare to have your flabbers well and truly gasted. At the age of twenty-four, Seb Goldswain is already being considered by many of South Africa's elite professional musicians as one of the top performing guitar players in the country. Seb is a highly versatile musician, having studied jazz guitar and composition up to honours level at UKZN. Apart from performing with his own original electric band, as well as regularly working with some of SA's top artists, he performs his own highly energetic original solo acoustic set to a usually wild reception. Armed with either an acoustic guitar, or an electric guitar and a Marshall stack, Sebastian has the rare ability to wow and draw crowds into a frenzy with nothing but his original music, electric stage energy and outstanding guitar playing. Get a tasty preview and subscribe to his Youtube channel here:

https://www.youtube.com/channel/UCZq7kYD2DETu1ex6jblMtdA

DIRECTIONS TO MiTH: Take the N3 to Hilton, take the Hilton turnoff and go South into the Village (away from Hilton College). Travel 5,2km along Hilton Avenue (past two sets of traffic lights and Crossways Pub) and keep going straight as Hilton Avenue turns into Dennis Shepstone Drive. At the 5,2km mark, Knoll Drive will be on your right – the entrance to MiTH is the *second* entrance on your left into The Knoll Historic Guest Farm.

ABOUT MiTH: MiTH is a semi-open mic music club. An opportunity for musicians to share the joy of their music with a friendly audience which includes fellow musicians – who have all "been there" too. (Non-musicians welcome too!) Whether you're a newbie looking for your first opportunity to perform publicly, or a more experienced / mature musician simply looking for people who are as passionate about music as you are – come along and join us!