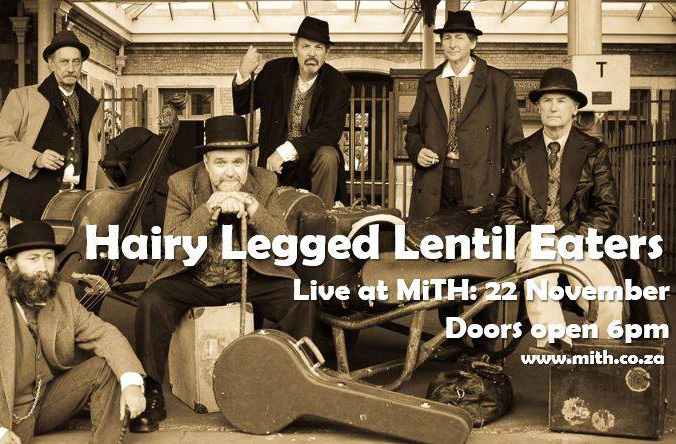 Hairy Legged Lentil Eaters Live at MiTH
Category:
When:

22nd November 2017 7:00 pm - 10:00 pm
Where:

Knoll Dr




Hilton

,

KwaZulu-Natal

South Africa



Submitted By:
Event Details

---

MiTH (Music in The Hills) 22 November 2017

Time: 7pm, entry R30, bring your own booze. Food and soft drinks are available for sale. Musicians who want to play at MiTH, please contact mithbookings@gmail.com, Bill Pocket (076 684 7647), Charles Webster (082 331 7271), or Doug Borain (072 340 7034).

DIRECTIONS TO MiTH:

Take the N3 to Hilton, take the Hilton turnoff and go South into the Village (away from Hilton College). Travel 5,2km along Hilton Avenue (past two sets of traffic lights and Crossways Pub) and keep going straight as Hilton Avenue turns into Dennis Shepstone Drive. At the 5,2km mark, Knoll Drive will be on your right – the entrance to MiTH is the *second* entrance on your left into The Knoll Historic Guest Farm.

7pm – St Charles Junior School

Heather Skorpen is St Charles' music teacher, and she'll be bringing her young apprentices to dazzle the MiTH faithful. In fine MiTH tradition – yet another group of talented learners to start off the evening, following on from the Cowan House crew last week. This is why MiTH was started – to give a stage to new and young performers so that their first experiences of musical performance are positive. Don't miss it!

7.30pm – Ilan Lax

Ilan performs a mix of folk and blues originals and covers, using his acoustic guitar, voice and harmonica. He'll be joined on stage by some mystery friends, on the 22nd, which will no doubt add even more colour to this multi-talented performer's set. Ilan has been a singer and songwriter "for more years than I can remember. Music was around me in my mother's womb and remains a mainstay and fundamental component contributing to who I am and my life-force. I write songs that reflect the many facets of my life experience from love and family to work, the world around me and the things that move me – in the words of Douglas Adams: "Life, the Universe and Everything."

8.10pm – Ryno Theron

"Voicelessness" is Ryno's solo musical project, which finally got started after many years playing for numerous Durban bands of all genres. While writing his album he got deeper and deeper into ambient, atmospheric music, which has influenced most of his songwriting. Ryno released his debut full length album late last month. Says Ryno: "I feel very blessed to be on this journey, and excited to play this music for as many different people as possible." With experimental guitar work, his influences include Caspian, Andy McKee and Guy Buttery. Listen here – http://voicelessness.bandcamp.com/

9pm – Hairy-legged Lentil Eaters

The Hairy Legged Lentil Eaters are a folk-rock group based right her in the Midlands of KwaZulu-Natal, South Africa. As individuals the Hairies resemble a schizophrenic jumble sale, but together they make music that you can wear to any party. Variously described as a "collective multiple personality disorder" and "the most eclectic folk band this side of the Limpopo," the Hairy Legged Lentil Eaters are a bunch of very different people having fun with music.

ABOUT MiTH:

MiTH is a semi-open mic music club. An opportunity for musicians to share the joy of their music with a friendly audience which includes fellow musicians – who have all "been there" too. (Non-musicians welcome too!) Whether you're a newbie looking for your first opportunity to perform publicly, or a more experienced / mature musician simply looking for people who are as passionate about music as you are – come along and join us!