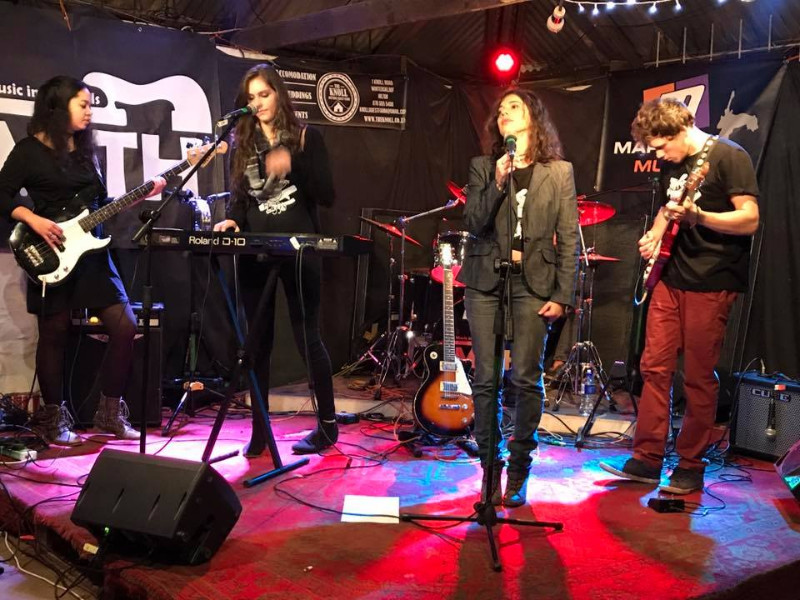 Erin Muirhead, Chad Jubber, Not fat, just fluffy & Sleepy Hollow House Band
Category:
When:

27th September 2017 7:00 pm - 10:00 pm
Where:

Knoll Dr




Hilton

,

KwaZulu-Natal

3245




South Africa



Submitted By:
Event Details

---

MUSIC IN THE HILLS THIS WEEK 27/09/2017 – Erin Muirhead, Chad Jubber, Not fat, just fluffy & Sleepy Hollow House Band.

Time: 7pm, entry R25, bring your own booze. Food and soft drinks are available for sale. Musicians who want to play at MiTH, please contact mithbookings@gmail.com, Bill Pocket cell 076 684 7647 or Charles Webster cell 082 331 7271 or Doug Borain cell 072 340 7034

7.00pm – 7.30pm – ERIN MUIRHEAD

Erin Muirhead is a sparkling young talent who makes a return to the MiTH stage after charming us with her flourishing skills last time around. This is what MiTH was created for…whether it's seasoned professionals or newcomers to the stage, we give talent a platform – for the love of music. Get there early so you don't miss out on this budding songstress.

A singer/songwriter (contemporary pop) who uses keyboard to play indie, classical and modern music, Mumford and Sons are among her influences. She started composing from a young age and has been channelling what she sees around her into her songs and instrumental pieces ever since. Her goal is to eventually be involved in the scoring of movie soundtracks.

7.30pm – 8.00pm – CHAD JUBBER

At only 19 years old, Chad Jubber can best be described as 'the next best thing' in the South African music industry. A contestant on season two of The Voice South Africa, the charming guy with the brooding good looks did not allow his premature exit from the show to stand in the way of his dreams.

His debut EP has been released, and was written over a period of four years by Chad himself. Each song tells a beautiful story of love, loss and the sometimes unkind journey towards finding oneself. The EP contains five tracks, and speaks volumes about the kind of guy Chad is when no one is watching: compassionate, sincere, profound.

8.00pm – 8.50pm – NOT FAT JUST FLUFFY

Not fat, just fluffy is a band born and bred in Durban. It came to be on the eve of the 13th of February 2015. The band has lost and gained members along the way, and has gone by a several names, including 'Your Mom', 'Don't Jazz on my Tash', 'Naimless Hobros' and many more. They finally settled on 'Not fat, just fluffy" because they are in fact not fat and arguably fluffy. When it comes to genre we have many different sounds and cater to a variety of tastes, but generally we just go with anything that sounds good. The band played at a few open mics around Durban, some with our full band and others just doing some cool acoustic numbers. Their aim is to have fun while sharing their music. We can't argue with that!

9.00pm – 10.00pm – SLEEPY HOLLOW HOUSE BAND

A Pietermaritzburg local and a very skilled and entertaining performer, Gerry Van Rensburg, will have you smiling, singing and stomping your feet. His covers range from old favourites to contemporary blue-chip hits…and his searing sense of humour will have you smiling, guaranteed. These days he has a band backing him – we look forward to having them on the the MiTH stage again.

ABOUT MiTH: MiTH is a semi-open mic music club. An opportunity for musicians to share the joy of their music with a friendly audience which includes fellow musicians – who have all "been there" too. (Non-musicians welcome too!) Whether you're a newbie looking for your first opportunity to perform publicly, or a more experienced / mature musician simply looking for people who are as passionate about music as you are – come along and join us!

DIRECTIONS TO MiTH: ROADWORKS ARE COMPLETE! The approach to MiTH is now safe and well-marked, so don't let a bit of mist (or MiTHt) keep you away.

Take the N3 to Hilton, take the Hilton turnoff and go South into the Village (away from Hilton College). Travel 5,2km along Hilton Avenue (past two sets of traffic lights and Old Main Brewery) and keep going straight as Hilton Avenue turns into Dennis Shepstone Drive. At the 5,2km mark, Knoll Drive will be on your right – the entrance to MiTH is the *second* entrance on your left into The Knoll Historic Guest Farm.