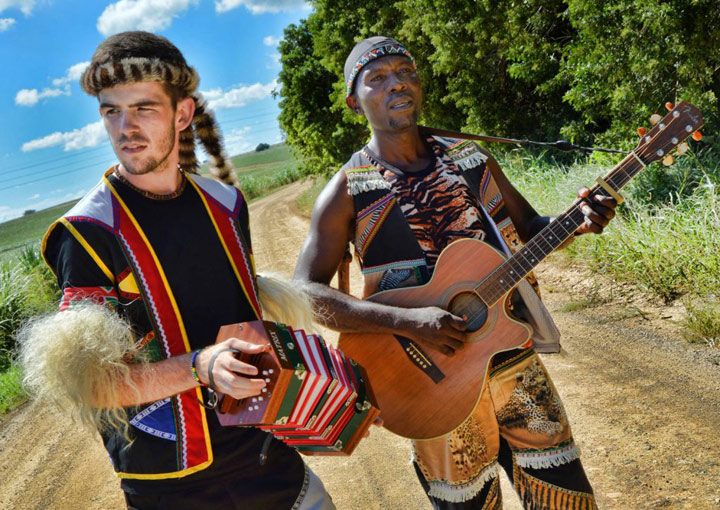 David Jenkins & Maqhinga Radebe Live at MiTH
Category:
When:

28th February 2018 7:00 pm - 10:00 pm
Where:

Knoll Dr




Hilton

,

KwaZulu-Natal

South Africa



Submitted By:
Event Details

---

7pm – Reid Family

The Reid Family Band has been years in the making, jamming together for many years. Vince had an interest in music from young age and is mainly self taught. He plays keyboards, guitar and recently, tin whistle. Rhiannon, who is 16 and with the help of Kech Sanchez, she has honed her skills on guitar and sings lead vocals . Aidan who is 11 years old, showed musical abilities from a very young age, also sings. Tess organises the bookings and joins in on vocals and percussion, when possible. The Reid Family Band enjoys many different genres of music but are particularly influenced by Irish, Folk and Pop music.

8.00pm – Summer du Preez

Summer du Preez is a musician based is KZN. From originals to covers, she and her guitar capture the audience with a sweet yet powerful voice. She decribes her music as "folk indie". With influences such as Alanis Morissette and the Cranberries, Summer wants to be an artist with a difference, and music has been her passion from a very young age. Her favourite musicians are Ben Howard, Daughter, Birdy, James Bay and many more.

9.00pm – Qadasi and Maqhinga

Hailing from Empangeni in the heart of Zululand, Qadasi and Maqhinga are an acoustic duo on a quest to revive the powerful sounds of traditional Maskandi music. Both professional musicians in their own right and sharing the same vision, joining forces has resulted in an international caliber of music which represents the heart and soul of South African roots music.

David Jenkins, also known as Qadasi, is an accomplished Maskandi guitarist, concertina and banjo player who developed a deep passion for Zulu culture and music at a young age. This interest grew exponentially over the years, and as a result, his love for traditional music was born. After matriculating in 2010, Qadasi released his first studio album under record label, Sande Entertainment headed by Sibongiseni Shabalala of four-time Grammy Award winning group, Ladysmith Black Mambazo. His second album, released in 2014, has since been nominated for a SAMA (South African Music Award) and SATMA (South African Traditional Music Award). Qadasi was also recently honoured to receive a KwaZulu Natal Young Achievers Award for 'social cohesion through Maskandi.'

Maqhinga Radebe began his career as a Maskandi musician in the mid 80's and has received numerous awards for his amazing musical skills, which also include SAMA and SATMA Award nominations. Well travelled, he has performed to audiences in several countries, including Zimbabwe, England and the USA and throughout Southern Africa, sharing stages with top artists such as Hugh Masekela, Ladysmith Black Mambazo, Phuzekhemisi and Soul Brothers, to name a few. He is presently most well known for his key role as the guitarist in popular Maskandi group, Shabalala Rhythm.

David first met Maqhinga in Durban in early 2010 when enquiring about a concertina tuner. After a 'jam session', thus began their story and the two have become firm friends, with Maqhinga taking the role of music director and producer of David's first solo projects. The talented musicians later decided to join forces after realizing the musical potential that was possible by combining their artistry.

Over the past several years, the two of them have travelled home and abroad with their eclectic fusion, taking it to audiences in the UK, Asia, and throughout South Africa, and are thrilled to have recently released their long awaited collaborative album titled, "Lashis' Ilanga" – an organic, acoustic fusion of traditional Maskandi and western folk music. Aside from promoting Zulu culture, traditional music and social cohesion, the duo have also been actively involved in rhino conservation, working alongside the Kingsley Holgate foundation and Project Rhino KZN as rhino ambassadors.

Take a listen: http://www.davidjenkins.co.za/music/

ABOUT MiTH:

MiTH is a semi-open mic music club. An opportunity for musicians to share the joy of their music with a friendly audience which includes fellow musicians – who have all "been there" too. (Non-musicians welcome too!) Whether you're a newbie looking for your first opportunity to perform publicly, or a more experienced / mature musician simply looking for people who are as passionate about music as you are – come along and join us!

Bring your own booze. Food and soft drinks are available for sale. Musicians who want to play at MiTH, please contact mithbookings@gmail.com, Charles Webster (082 331 7271), or Doug Borain (072 340 7034).

DIRECTIONS TO MiTH:

Take the N3 to Hilton, take the Hilton turnoff and go South into the Village (away from Hilton College). Travel 5,2km along Hilton Avenue (past two sets of traffic lights and Crossways Pub) and keep going straight as Hilton Avenue turns into Dennis Shepstone Drive. At the 5,2km mark, Knoll Drive will be on your right – the entrance to MiTH is the *second* entrance on your left into The Knoll Historic Guest Farm

Visit www.mith.co.za for more details and directions.