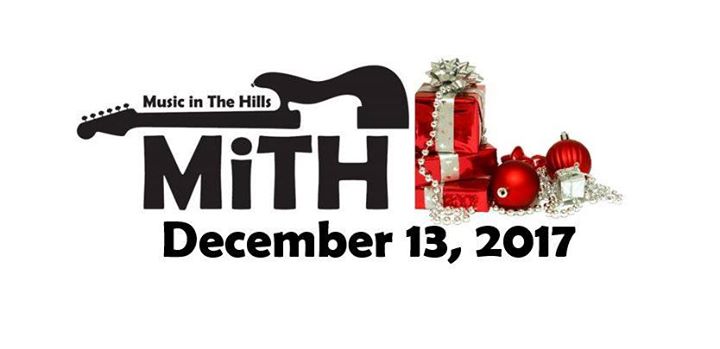 CHRITHMiTH 2017!
Category:
When:

13th December 2017 7:00 pm - 12:00 am
Where:

Knoll Dr




Hilton

,

KwaZulu-Natal

South Africa



Submitted By:
Event Details

---

CHRITHMiTH 2017! featuring: St John & Tanya, and the Riddle & Christmas collaboration with Antonio Ravell.
Entry R30, bring your own booze. Food and soft drinks are available for sale.

7pm – St John & Tanya

Some of our favourite musicians here in the Midlands of KZN. Tanya leaves her heart on the stage – the utter abandon with which she delivers jazz standards, jazz not-so-standards and soulful ballad covers has left MiTH members tearful on more than one occasion. She lives and breathes every lyric. St John, in his unique, quiet way, provides a perfect foil for Tanya with smooth and evocative keyboard work and a raspy vocal that is as surprising as it is visceral. Their talent is undoubted and self-evident. Their impassioned performances, however, are clearly a function of deep pools of emotion.

7.50pm – and the Riddle

We describe our genre as "acoustic cross-pollination" with Jacky van Staden on vocals, guitar, ukulele, harmonica and percussion, Daniel Winterbach on guitar, percussion and vocals. Influences include Fokofpolisiekar, aKING, Mumford & Sons, of Monsters and Men, andtheRiddle are free-spirited and fiercely independent multi-instrumentalists intent on creating something honest and sustainable in an inherently dishonest and unsustainable modern world.

9.00pm – Christmas collaboration with Antonio Ravell

We end off the MiTH year with a bit of fun… Antonio Ravell is a favourite at MiTH and is a well-established fingerstyle electric guitarist and singer-songwriter. He will collaborate with various friends, kids, and MiTH regulars, organisers etc to bring you a Christmas-flavoured celebration of the family and special tradition that MiTH has become. If you've played at MiTH before, let us know if you want to join in, and bring your instrument along in your car just in case!

ABOUT MiTH: MiTH is a semi-open mic music club. An opportunity for musicians to share the joy of their music with a friendly audience which includes fellow musicians – who have all "been there" too. (Non-musicians welcome too!) Whether you're a newbie looking for your first opportunity to perform publicly, or a more experienced / mature musician simply looking for people who are as passionate about music as you are – come along and join us!

Musicians who want to play at MiTH, please contact mithbookings@gmail.com, Bill Pocket (076 684 7647), Charles Webster (082 331 7271), or Doug Borain (072 340 7034).

DIRECTIONS TO MiTH: Take the N3 to Hilton, take the Hilton turnoff and go South into the Village (away from Hilton College). Travel 5,2km along Hilton Avenue (past two sets of traffic lights and Crossways Pub) and keep going straight as Hilton Avenue turns into Dennis Shepstone Drive. At the 5,2km mark, Knoll Drive will be on your right – the entrance to MiTH is the *second* entrance on your left into The Knoll Historic Guest Farm.